Steam Cleaning | Pressure Washing | Chemical Cleaning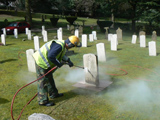 Steam Cleaning / Pressure Washing is a form of cleaning using high pressure water (low – 4,500 P.S.I.) and either cold or hot (up to 150 degrees) in order to remove dirt, grime, algae, moss, and loose paint.
We use a self contained trailer unit for this work with its own integral water tank which requires no external power source.
Very little damage – if any – can be caused using this cleaning method but it sometimes has its limitations unless a chemical is used.
Chemical Cleaning is where a chemical is applied to the area being cleaned in order to remove harsh staining or paint. This is normally applied by hand using a brush or a low pressure sprayer and then removed with a hot / cold pressure washer. This process might have to be applied more than once, especially when a degreaser is required first, then the cleaning agent and finally a neutraliser.
Some examples of Steam Cleaning | Pressure Washing | Chemical Cleaning
BRICKWORK / STONEWORK - General Cleaning and Paint Removal. The best way of cleaning the external Brickwork or Stonework without damaging the substrate. If the surface is heavily stained or situated in high pollution area then a chemical based cleaner will then have to be used, normally a degreaser, then the cleaner, and then a neutraliser. Paint removal again is an application of a Chemical and then Hot Pressure / Steam Cleaned off after a set period of time.
CONCRETE, RENDER and PEBBLEDASH - General Cleaning. Removal of dirt, grime and algae.
CLADDING – Cleaning down the external cladding of a building using Steam Cleaning with a chemical based cleaner to be used in a high polluted area.
PATIOS and DRIVEWAYS - General Cleaning using a Flat Surface High Pressure Rotary Spinner machine and / or just the lance. Removal of dirt, grime and algae using high pressure hot water only as Using a Chemical – even its mildest form - is not that helpful to the plant life.

Any chemical F.T.G.UK Limited use is fully compliance to all C.O.S.H.H. requirements and Health & Safety regulations. Full stringent Method and Risk assessments are adhered to.